Father's Day Breakfast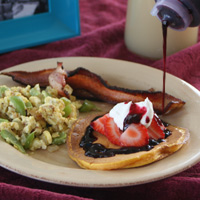 Dads deserve a lot of credit for all the hard work they do, and breakfast is my favorite way to jumpstart a great day of relaxation on Father's Day.
On Mother's Day we buy flowers, hand around a slew of handmade thoughtful cards, and pile on the praise all day long. (Well deserved I might add.)
Sometimes Dad is lucky to get a gift at all! I mean, Hallmark isn't exactly Dad's favorite store, and hanging flower baskets don't make him go all starry eyed. Maybe we'll buy him another tie or some grilling equipment, which, let's be honest, is like getting a toaster for your birthday.
But breakfast, preferably in bed, is one tradition that always gets the job done. We have three pancake variations, complete with toppings and syrups and some Father's Day Eggs to get you started. Happy Cooking, and Thanks to all the Dads out there!
-Sierra