Lunch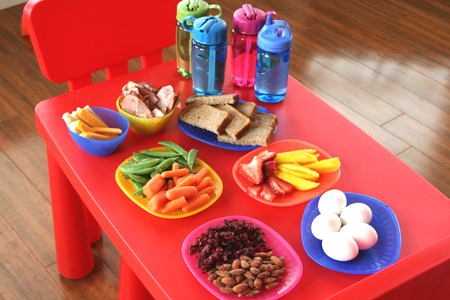 When my daughter started first grade I was trying to figure out what to pack her for lunch. Walking through the store I saw chips, juice boxes, snack cakes, fruit snacks, crackers and packaged fruit. Basically, if I packed this she would get sugar and fat for lunch. I love dessert (not so much from a box), but when it's for dessert, not a meal. I took a different approach and stocked up on bulk nuts, cheeses, meats, dried fruit, and a sturdy water bottle. When pairing those with wheat bread and fresh fruits and vegetables, she gets a great variety and a nutritious lunch. It's packed with fiber, protein, healthy fats, complex carbohydrates, vitamins and minerals. I do pack a small treat as well, but it's for fun, not the meal.

At home this has become our favorite lunch. Not only is it healthy and delicious, it's quick and easy. Much easier than the regular mac & cheese, chicken nuggets, frozen pizza and foods like these that dominate the grocery stores. Set out a spread like this when neighbor kids are over and everyone will find something they like. Also great for picnics, snacks and hikes.

These items are great to have on hand for salads. The fruits and nuts are also great mix-ins to yogurt, granola, and hot cereals.
Fresh Vegetables


carrots
snap peas or snow peas
cauliflower
broccoli
sliced zucchini or yellow squash

Dips
ranch
hummus
Fresh Fruit


strawberries
apples
mangoes
pears
bananas
blueberries
raspberries
oranges

Protein


ham
turkey
prosciutto
chicken
roast beef
salami
pepperoni
hard boiled eggs
Nuts


almonds
cashews
sunflower seeds
walnuts
pecans
pumpkin seeds
Dried Fruits


craisins
raisins
blueberries
pineapple
cherries
dates


Cheeses


mozerella
cheddar
swiss
muenster
provolone
asiago
parmesan shavings