Valentine's Dinner Date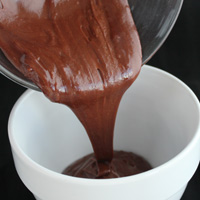 The first Valentine's Day I spent as a married woman went as follows: no one takes charge because one of us is a guy, we drive around town and find out that a)driving after 6 on Valentine's is a death wish, and b)every single restaurant has a 4 to 6 hour wait. (At what point, by the way, should they stop taking names and just tell customers to proceed to the nearest gas station?) I haven't been that hungry since I tried to eat at Disney Land.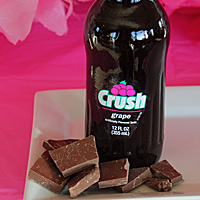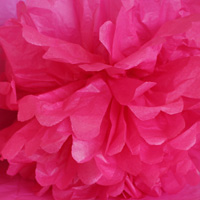 Since that night, my husband and I have created the Stay-at-Home Valentine's Date Tradition, and I look forward to it every year. We put our kid's to bed early with strict instructions (read: threats) to stay in bed. Then we light some candles, eat a fancy meal, and relax the night away.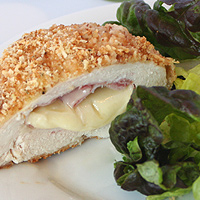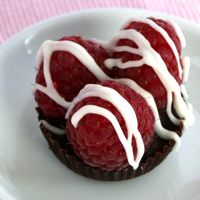 I mix up the menu every year, but the main idea is fancy main course, something interesting to drink, and lots of dessert. This date has never failed, and I highly recommend it to anyone who hates traffic as much as I do!
-Sierra

Shopping List

2 chicken breasts
1 egg
Dijon mustard
1 1/2 C fresh parmesan
bread crumbs
kosher salt and black pepper grinder
2 slices deli ham
2 slices Swiss cheese
parboiled rice
cracked wheat
onion
lettuce
lemon
1 1/2 c heavy cream
chicken broth
marshmallow cream
12 oz. semi-sweet chocolate
12 oz. milk chocolate
1 c milk chocolate
30 mini cupcake wrappers
2 sticks unsalted butter
18 oz. raspberries

Preparation Schedule
Up to 1 week in advance: Make the

Marshmallow Fudge

sauce and store in the refrigerator or freezer.
Night before:

Parmesan Chicken:

Pound out chicken, wrap around ham and Swiss, and bread. Place on cookie
sheet, cover with plastic wrap and store in the refrigerator.
Prepare

Alfredo Sauce

and store in airtight container in the refrigerator.
1 hour before: Preheat oven to 350 degrees.
40 min before: Start

Rice Pilaf

. Remove plastic wrap and place

Parmesan Chicken

in the oven.
5 min before: Re-heat

Alfredo Sauce

in the microwave for 1 min, stir and heat another min. Microwave


Marshmallow Fudge Sauce

in 1 min increments until it is melted enough to pour. Do not heat longer than 1 min
at a time or you will burn the chocolate.