I hope everyone is ready for a taste of Italy because Ashley will be living there soon! To celebrate her family's visa acceptance, we've got three Italian mainstays this week: we're talking crusty garlic bread, Ceasar, and Balsamic Salad.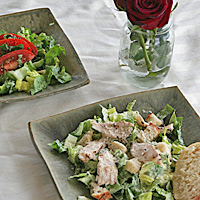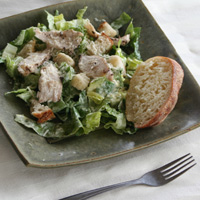 I've tried many Ceasar recipes in the past with little success. It's either too lemony or too fishy, and it never tastes like the real thing. I even pureed an anchovy filet while gagging one time, which is why I was excited to try Ashley's version with a black olive option instead of the anchovy. She makes hers with the fish, and I go with the olives, but I love this recipe either way. Not that I'm going to buy another anchovy, but I'll leave that up to you. Ashley's Ceasar recipe has become a family standby in both of our homes, and we're excited to pass it along to you.
Next on the tour or Italy, Ashley's Garlic Bread and Balasamic Salad recipes are fresh for summer and bursting with flavor. Balsamic vinegar, basil, and mozzarella cheese were made for each other, so pull out your salad tongs! It's time to eat.
-Sierra